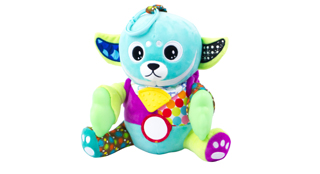 06 Jan
Darlyng & Co.
Yummy Buddy Teether Plush Toy
Arrived on: January 6, 2017
The Yummy Buddy Teether Plush  is a combination of a lovable plush sensory chew toy and a BPA and phthalate-free food-grade silicone teether bib with two chewable, silicone, glow-in-the-dark "happy hands." Crinkled ears and chime bells provide sensory stimulation, while multiple  textures, patterns and colors offer visual stimulation. The toy has a mirrored belly for peek-a-boo fun and facial recognition. There's also a backpack to store small toys, plus a hanging teether link for strollers and cribs.