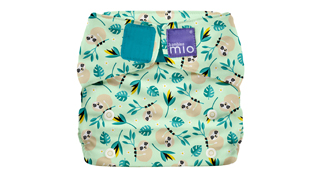 31 May
Bambino Mio
miosolo all-in-one diaper
Arrived on: May 31, 2018
The stylish miosolo has been beautifully made and benefits from a number of unique features which make this all-in-one diaper stand out in a highly competitive market. The miosolo is as easy to use as a disposable, with all benefits of a cloth diaper – it is better for baby, better for parents and better for the environment.
• The unique pull-out tab system is functionality at its best, as removing the core from inside the diaper improves washing performance and speeds up drying time.
• The tuck-in pocket is the perfect design with or without an additional booster pad to maximize absorbency.
• The diaper benefits from a highly effective super-absorbent core which draws moisture into the diaper away from baby's skin.
• Its adjustable snaps and hook and loop fastenings ensure the miosolo gives a snug and comfortable fit for all different sizes, in addition to front crossover tabs which are ideal for newborns and slimmer babies.
Feedback from parents such as, "I would 100% recommend the miosolo to everyone," and, "I absolutely loved using the miosolo at night. Baby has a very comfortable, undisrupted night's sleep," prove that parents really do love the quality, performance and design of our all-in-one diaper. With a competitive RRP, number of unique features and range of stylish designs, it's easy to see why the miosolo all-in-one diaper comes out on top!